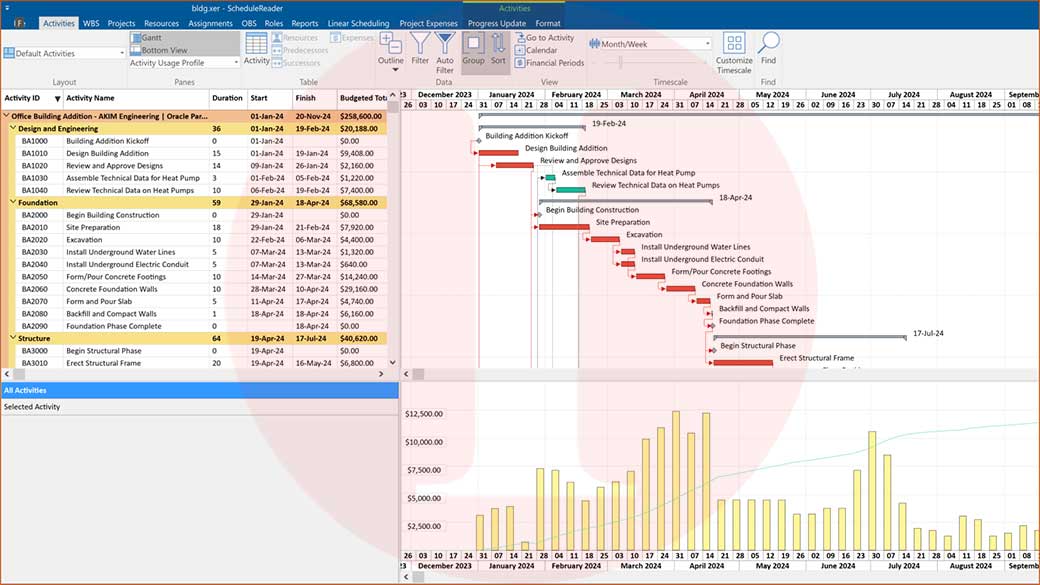 What is ScheduleReader? How to open XER file without P6
ScheduleReader is an extremely useful tool that enables you to open Oracle Primavera P6 *.XER project schedule files and let you report, print out, and as well as update progress easily. All you have to do is just double click on your Primavera .XER file and it is loaded read-only on your screen in a few seconds. Let ScheduleReader open your Oracle Primavera P6 XER projects.
Join the webinar to learn more about ScheduleReader. Remember that webinar is already recorded in cloud. Please fill in the form below and watch recorded Free Primavera ScheduleReader Webinar.
Register for Free ScheduleReader Webinar and Learn To
What is ScheduleReader
How to open XER files easily
Report your project by using ScheduleReader
Linear Scheduling
Update you project progress
Schedule Quality Check
Let ScheduleReader open your Oracle Primavera P6 XER projects
Introduction to ScheduleReader
Basic and PRO versions
Using ScheduleReader for Importing Progress Update
Request Deleting unneccessay activities
Request adding activities
Enter actual start, actual finish and remaining duration
See trace logic and examine relatonships
Group and Sort Primavera Schedule data
Linear Scheduling Reporting
Progress Update Mode
View Financial Periods
Auto Filters by Column
Import Primavera Layout
Open Primavera XER files in seconds
Audience
End Users
Project Manager
Schedulers
Business Analysts
Planners
Sub Contractors
Key Features of Schedule Reader Webinar
Understand ScheduleReader
Open Primavera XER Project
View, navigate, and print out in ScheduleReader
Compare Current versus baseline
View Primavera P6 calendars
View relationships
Schedule the project View constraints Format schedule data View roles and resources Update Project Progress Enter Actual Dates View resources Filter Critical Path Create custom reports Auto Filter Activities as in Excel
Please fill out form and register free ScheduleReader Webinar